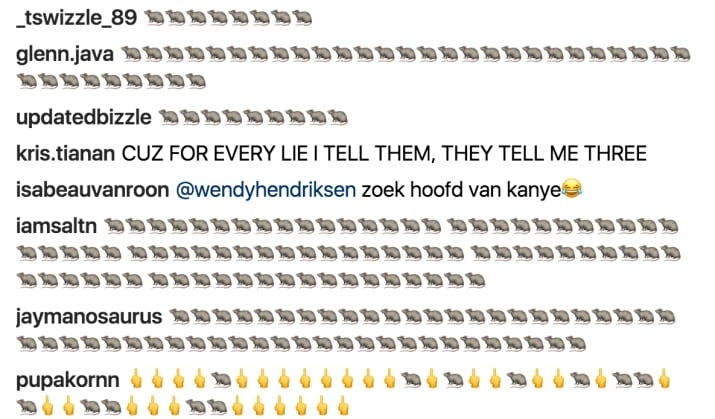 Kim Kardashian has risked the wrath of Taylor Swift's fans after sharing a photo from Kanye West's art exhibit, which showed a wax recreation of him in bed with the singer.
Kardashian simply captioned the picture: "Famous". Just being called a rat would be shade enough, but fans have also commented that "snakes eat rats", suggesting that Taylor might soon get her revenge. They seemingly buried the hatchet and conspired on lyrics to West's song "Famous".
Taylor's reaction to the line was quick and furious, however the Wests hit back and accused her of playing the "victim" - saying she had given permission for her name to be used in the track.
But West rapping "I made that bitch famous" in the final version of the song allegedly caught Swift by surprise - she says she never agreed to be referred to in such a derogatory manner.
After Kardashian shared a picture of her with the sculptures on Monday, Swift's fans speedily bombarded her with reputation references, calls to buy Swift's album on iTunes, and SO MANY RAT EMOJIS.
More news: Xiaomi's next flagship smartphone will use a Qualcomm Snapdragon 845 chip
More news: Guardiola explains incident with Nathan Redmond
More news: Supermoon to light up the sky this weekend
"I never trust a narcissist But they love me".
While West and Swift have been at war since 2009, when he stormed the stage at the MTV Music Video Awards and ruined her acceptance speech for Best Female, her spat with Kardashian only started in 2016.
It's been a long time now since the Famous video dropped so you'd think that the whole thing would be said and done with.
The art display - which West premiered past year in the song's music video - served as another chapter in the long-running feud between West and Swift, as it featured naked wax figures of multiple celebrities including Swift. Kardashian then posted a taped conversation of West telling Swift about the lyrics, along with the snake emoji.