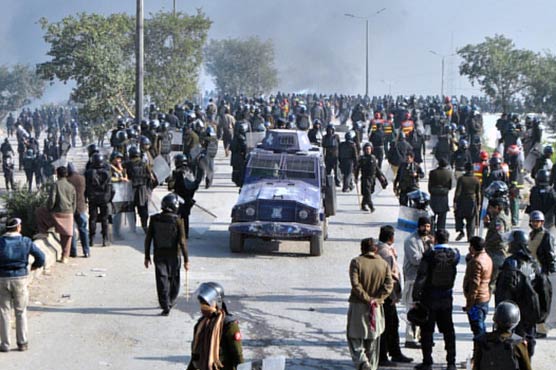 A total of 54 people were reportedly delivered to hospitals, including 14 security officials as clashes between police and demonstrators erupted.
The government had made several attempts to resolve the stalemate through negotiations with the protesters, who demanded the resignation of a law minister over an omitted reference to the Prophet Muhammad in a parliamentary bill.
At least one person was killed and over 200 injured after police moved in to break "blasphemy" protests.
.
Earlier, the Chief of Army Staff (COAS) General Qamar Javed Bajwa telephoned Prime Minister Shahid Khaqan Abbasi and discussed the ongoing situation regarding the crackdown on protesters in Islamabad.
The protests began on November 8 with demands that the government restore a key election law clause about the Prophet Mohammad.
Pakistan's media regulator barred local TV channels from broadcasting live images from the scene, though protesters were still using Facebook Live and other social media. The protesters have surrounded leadership and stopping police and Rangers.
More news: Pakistani court ends US-wanted militant leader's detention
More news: Blaine Gabbert to officially start vs. Jaguars
More news: Country Singer Mel Tillis Dead at 85
"Patients dying for want of access to hospitals, traders crying for lack of business activity, students are being deprived from their right to education and [the] right of free movement of nearly six million people of [the] twin cities [is being] usurped", he said.
The Interior Minister Ahsan Iqbal on Saturday once again offered talks with sit-in protesters as embattled law enforcement agencies (LEAs) were fighting to free the Capital which had been under siege since 20 days. Dr. Mohammad Altaf Hussain, at Islamabad's main hospital, said 186 people were brought from the rally with minor injuries and respiratory problems.
The protesters in retaliation are throwing stones at the security men.
Dozens were arrested. Over 8,000 security personnel engaged in the operation against around 2,000 protesters, a report said. All the news channels have also been suspended.
"They have fired teargas shells (at security forces), they also cut the fibre-optic cables of cameras monitoring their protest.They have inside information and resources that are being used against the state", he told DawnNews.
Smaller demonstrations were breaking out in Lahore and other cities, according to local media.