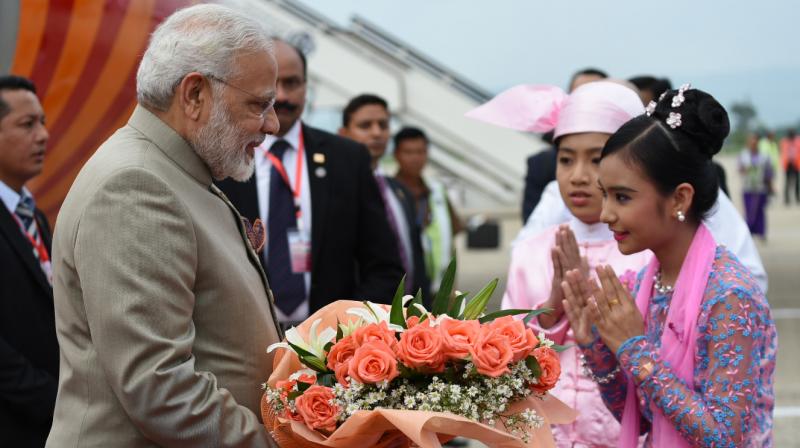 Prime Minister Modi held wide-ranging talks with Myanmar's State Counsellor Suu Kyi and announced gratis visas for people of Myanmar and promised to release the 40 Myanmarese citizens, lodged in Indian jails.
They also called for setting up a special fund to help the Rohingya seeking refuge in Bangladesh, suspending diplomatic relations with Myanmar, boycotting Myanmarese goods, and to contact the OIC and the United Nations to find an immediate solution to the problem. In the meeting, the two leaders discussed ways to deepen India and Myanmar's "historical relationship".
Burmese officials blamed Rohingya militants for the burning of homes and civilian deaths, but rights monitors and Rohingya fleeing to Bangladesh say the Burmese army is trying to force them out with a campaign of arson and killings. India estimates almost 40,000 Rohingya Muslims have already made India their home over the last five years and has announced plans to deport the illegal immigrants back to Myanmar.
"Netaji Subhas Chandra Bose made the clarion call of "Give me blood and I will give you freedom" in Myanmar and thousands of men and women responded", Modi said while addressing the Indian diaspora here. The two sides also signed an agreement for sharing white shipping information to improve data sharing on non-classified merchant navy ships or cargo ships.
More news: Jackets beat Vols in OT
More news: United States retaliates against Russian Federation by giving diplomats the boot from major cities
More news: Cavaliers are 'operating under assumption' LeBron James is leaving
■ India stands with Myanmar over the issue of violence in the Rakhine state which has led to loss of innocent lives: PM Modi.
He said, PM Modi will also pay a visit to the Aung San Museum which was the General's residence for a long period of time.
Earlier in the day, Prime Minister Modi received a ceremonial reception at the Presidential Palace in Nay Pyi Taw, as he arrived on a two-day visit to Myanmar. The Myanmar leader thanked Modi for his support against the "terror threat" her country faces. The Prime Minister had visited the country back in 2014 to attend the ASEAN-India Summit. Myanmar is one of India's strategic neighbours and shares a 1,640-km-long border with a number of northeastern states including militancy-hit Nagaland and Manipur.