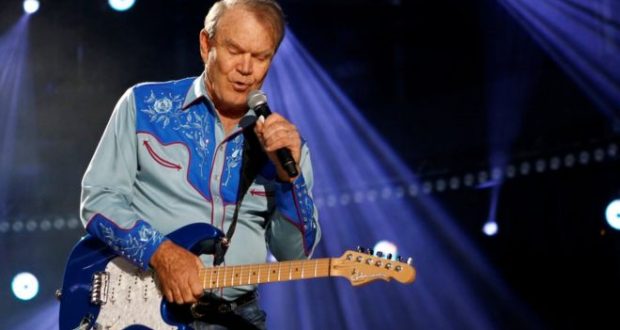 He picked up the CMA Entertainer of the Year award in 1969.
In 2005, he was inducted into the Country Music Hall of Fame.
Webb admitted that when he and Campbell first met, their opposing political beliefs caused some friction - he was liberal and Glen was a Republican - but, he noted, they were able to put aside their differences.
Campbell's death comes nearly two months after the release of his album, Adios, featuring songs from his Goodbye Tour, which followed his diagnosis in 2011.
Though Nelson never made a record with Campbell like he did with other fellow country greats such as Merle Haggard, Ray Price and Roger Miller, the two men had known each other since the 1960s.
More news: British Columbia opposition leader resigns after fall from power
More news: Osprey mishap: US Marines aircraft located at Shoalwater Bay off Rockhampton
More news: Teva (TEVA) Q2 Earnings and Sales Miss, Shares Down August 03, 2017
Webb, who still tours regularly - he'll be at One World Theatre on October 26 - last year brought a show called "The Glen Campbell Years" to Austin. Campbell used the song as the theme to his television variety show, The Glen Campbell Goodtime Hour between 1969 and 1972. Then came a trio of million-sellers written by Jimmy Webb - "By The Time I Get To Phoenix", "Wichita Lineman", and "Galveston".
He began a late-career renaissance in 2008 through his collaboration with producer and songwriter Julian Raymond, who persuaded Campbell to record a diverse batch of songs by younger, hipper artists, including Green Day, Tom Petty, the Replacements and U2.
But when Campbell had had enough trouble on the set, he told me he jokingly threatened Wayne: "I said, 'I've never done this before". Although his final album, "Adios", was created in 2012-13, it wasn't released until April 2017. It was a farewell song to the people he loved, but with the message that he would be OK as the disease progressed.
Campbell was twice nominated for an Oscar, for "True Grit" and again 45 years later for "I'm Not Gonna Miss You", an original song from the documentary "Glen Campbell".
Campbell is survived by his wife Kim and their three children; his five children from previous marriages; 10 grandchildren, great- and great-great-grandchildren; sisters Barbara, Sandra and Jane; and brothers Gerald and John Wallace.